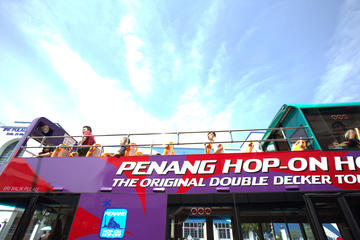 Penang Hop-On Hop-Off
The Hop-On-Hop-Off tour gives the flexibility to choose where and when you travel.? Service runs daily on a 20-30 minutes service schedule between 9:00a.m until 8:00p.m. Each bus is designed uniquely with half-open top with passengers experiencing the outdoor feel on top of the bus. The open deck is a favorite for tourist as tourist can feel and have better view of the city. This will be based on first come first serve sitting arrangements.


Meeting Points: Any Stop: CITY ROUTE: STOP 01- 13 / BEACH ROUTE: STOP 14-22
?
Note:
Voucher/ticket valid for?72 hours from date/time
Pre-recorded English commentary
(read more)